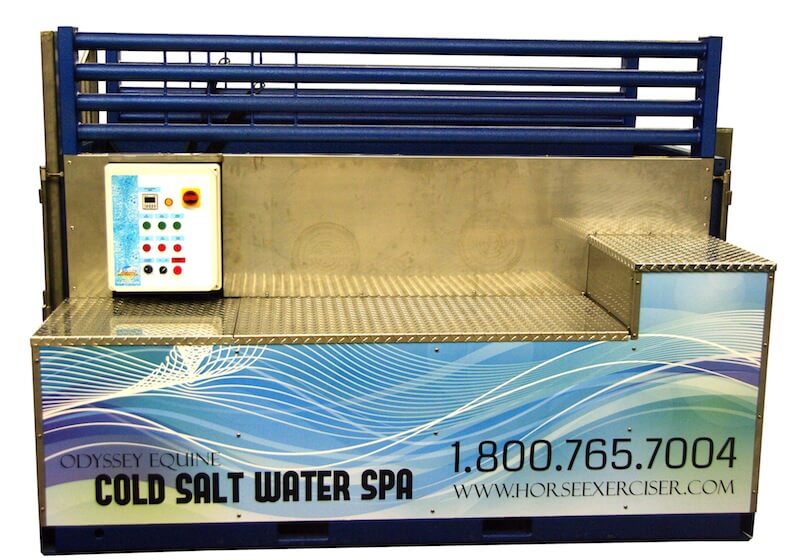 We guarantee that our Thunder Spa is the strongest and sturdiest equine spa available on the market. It's engineered to operate in the harshest of environments with a holding tank made from stainless steel ensuring quality and reliability. The patented mechanically bonded liner and swing doors are designed for maximum safety for your animals. We have also modernized the user interface, doing away with manual valves in favour of a more user-friendly press-button control system as well as sensors that alert the operator to low water levels, eliminating the chance of air suction.

 Detailed Specifications
Cold has been used as a form of therapy on athletic injuries since the beginning of time. Horsemen have been taking their horse to the therapeutic properties of the sea for as long as horses and man have worked together. More recently the therapies that have been recognized as beneficial for the rehabilitation of human athletes have become available for the equine athlete with impressive results. We now bring the sea to the horse with cold water hydrotherapy spas.
Thunder Spa cold water therapy works using for basic principles; temperature, depth of water, salt concentration and aeration.
• Cold causes cells to requires less oxygen to function so that further cell damage is not caused by a potential lack of oxygen at the injured site.
• Cold reduces the amount of fluid that accumulates at the injured site causing a reduction in swelling.
• Cold numbs therefore reduces pain.
• Water places pressure, the greater the depth of the water, the greater the pressure. Pressure aids in the dispersal of accumulated fluids, thereby reducing swelling.
• High salt concentration replicates the effect of the sea, drawing fluid, reducing inflammation and promoting healing.
• The aeration of the water increases the amount of oxygen in the water which is thought to aid in the healing process. It also provides a massaging action which not only aids in the dispersal of accumulated fluids but produces a relaxing effect on the horse.
Horses stand more quietly in moving water than in still water. Body and mind are healed during the therapy.
Equine Hydrotherapy can treat the follow conditions: 
Tendon and ligament injuries
Laminitis or Founder
Fractures and Splints
Arthritis, Degenerative Joint Disease
Wounds, infections & skin conditions
Post – Surgical sutures & swelling
Sore shins
Poor hoof growth
Concussion injuries
Reduction in chance of injury pre and post competition
Hand crafted in North America

Strongest, heaviest spa on the market
Swing door for safety
Patented mechanically bonded liner for years of durability
 Press button controls- no manual valves
Low water sensors eliminate the possibility of cavitation
Stainless steel holding tank
Oversized tank for better filtration
Open design – less claustrophobic for the horses
Variable speed blower motor that is controlled with a speed dial
Electronic timer to program length of therapy
Side therapeutic jets optimize oxygen levels
More horses per hour than any other spa
2 pumps: 1 to fill , 1 to drain
All replacement parts readily available
1 piece bottom rubber mat
Weight: 4500 lb

Water Capacity: 1500 Litre holding tank

Outside dimensions: 87″W x 92″ L x 60″ H

Inside dimensions: 32″W x 92″ L

Electrical requirements: 240 single phase 30 AMP

Chiller 1.5 ton 240 single phase AMP

Fast fill rates: 6″ level in 45 seconds. 8″ level in 1 minute and