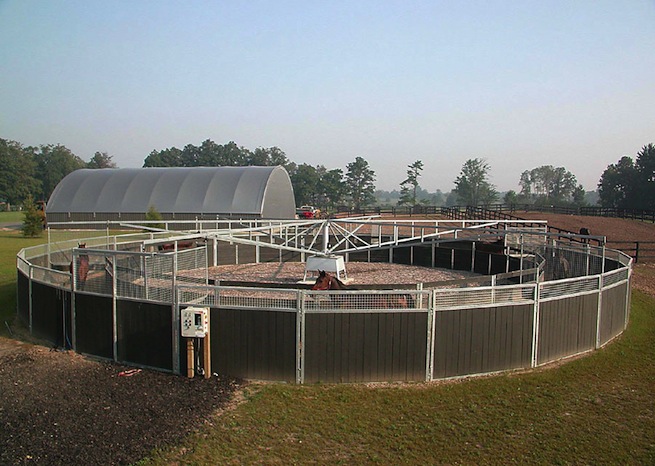 For the Ultimate in Performance and Safety
A variety of inside and outside fence panel systems are available to meet your safety, aesthetic, and budget requirements. Beautiful solid wood panels, tubular steel, mesh steel, or puck board in a choice of colours all designed to deliver superior strength and safety. Depending on your situation you may also choose the option of electrifying the outer perimeter of your fence.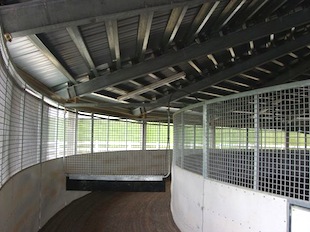 For the ultimate in performance and safety. Using 2"x 2" square tubing and welded wire mesh on top, this is the heaviest system we manufacture. The bottom utilizes puck board material to take the hardest of hits and does not shatter when kicked. To add to the safety features of this fence, we roll the panels to the radius of the exerciser, minimizing the gap between the hanging gates and the fence system virtually eliminating any chance of a horse escaping from their individual cell and entering the cell in front of them. Available in 6', 7', and 8' heights. Panels are 12' wide with 4' of puckboard material on bottom and 2', 3', or 4' of welded wire mesh above.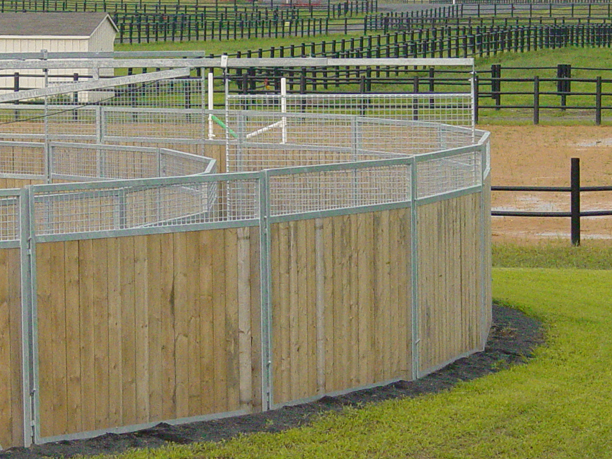 Performance with the added safety of mesh, the Thorncreek uses the same fence panel design as the Darlington, a 2" x 2" square tube channel frame and inner u-channel to carry your choice of lumber. Boards are easily replaced because of the channel design and options of 6' high (5' wood/1' mesh), or 6' high with an extra mesh panel for better ventilation and visibility (4' wood/2' mesh) are available.
Odyssey Recommendation: Consider using our Tongue & Groove Ash for superior strength and long-lasting beauty; hardwood lumber kiln, and air-dried to 14-16% moisture content for stability.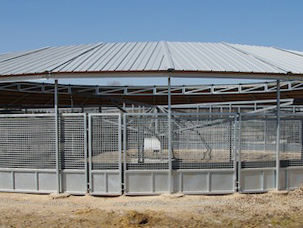 Built to last, and offering total ventilation and full visibility, the Wellington fence panel system uses 2" x 2" square tube frame with 2" x 2" x 3/16" welded wire mesh, hot-dipped galvanized for a lifetime of use and designed to take a lot of abuse. Available 6' high.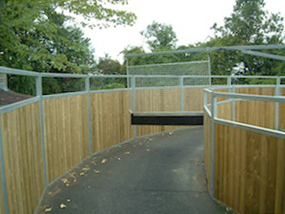 Designed to offer a less expensive alternative to the Thorncreek while still providing the strength and high-end aesthetic of wood. Built using 2″ x 2″ square tubing as a u-channel frame, the wood installs quickly and easily and the channel system allows for quick and easy replacement of boards. The panels sit on top of the ground and can be taken with you if you decide to move the machine. All steel is hot-dipped galvanized after fabrication and built to last.
Odyssey Recommendation: Consider using our Tongue & Groove Ash for superior strength and long-lasting beauty; hardwood lumber kiln, and air-dried to 14-16% moisture content for stability.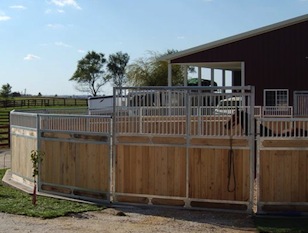 The Lexington fence system delivers high performance with a different look than the traditional fences used around horse exercisers. Using the same 2" x 2" square tube frame as the Darlington and Thorncreek fence, but with added decorative flanges and grill work to give it the look of a stall front. Available 6' high with  1' of grill work above.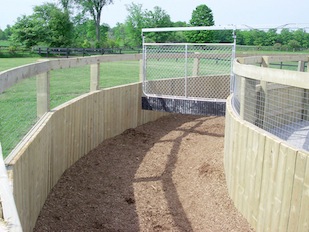 The XP Fence System was originally designed as a kit system for the do-it-yourself weekend warrior. Although it can be purchased preassembled, it is easy to build using your own wood. The channels allow you to build the fence in the configuration you require while at the same time giving the flexibility of being a removable system. Channels accept 1.5" lumber of your choice (hardwood is recommended). A strong, safe, flexible fencing solution at minimal cost!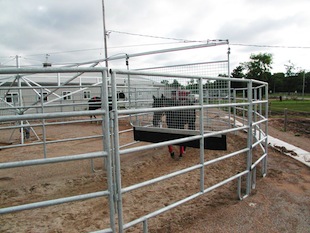 A cost effective round pen style system that can be set up or taken down with minimal labor and time and is an ideal solution where ventilation is critical and outdoor winter weather is of minimal concern. A 16 gauge 1 5/8" round tube panel with center support bar for added strength and 90-degree joints for added safety, these panels connect using a quick and easy "drop pin" connection. Safety is always a top priority, so these panels are 6' high to ensure tall or excitable horses are contained. Available in galvanized or powder coated finish. Now offering rolled panels
If you have any questions please contact us via our contact form, phone, or email.