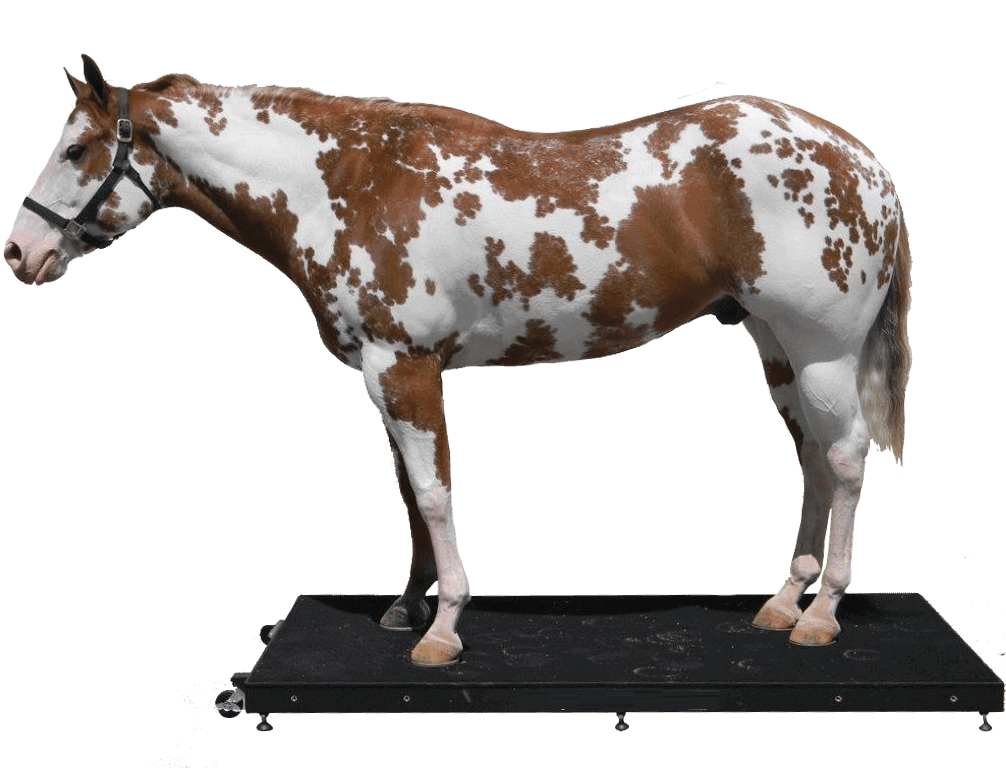 Achieve full body vibration with EquiVibe, a platform that creates an inventive treatment that has produced outstanding results in animal therapy, well being, health, fitness, and injury prevention. It even works on humans! A variety of research has confirmed the benefits of vibration therapy for horses working at all levels whether in rehabilitation, competition, or conditioning programs. The EquiVibe is especially beneficial for confined horses as the muscle vibration and stimulation is an excellent substitute for a lack of or absence of exercise.
The EquiVibe can be placed on any level surface for your convenience. Horses with experience using the plate learn very quickly that it is an enjoyable experience and therefore look forward to upcoming sessions and will often stand still on their own when using it. Vibration therapy is a proven method for the rehabilitation and restoration of injuries regardless of the horse's age, breed, or size.
Even perfectly healthy animals benefit from using the EquiVibe by relaxing and rebuilding muscle with regular use. Research has shown that vibration therapy increases energy, enhances flexibility, and relaxes the brain. 
Available in either steel or aluminum, the EquiVibe provides the world's highest quality platform for performance and recovery.
Clients who have purchased an EquiVibe often prefer to keep it in a stationary area such as at a veterinarian's clinic, rehabilitation centres, or simply in a quiet location at any type of barn! By comparison to other models, our vibration platform excels for those who regularly compete in events such as racing, rodeo, reining, hunters, showjumping, dressage, endurance, and more. Customers have told us that they love that the EquiVibe is mobile and can be taken with them when they travel to events. It's perfect for relaxing your horse and warming up muscles pre-competition and for relaxing the muscles and mind post-competition.
Its lightweight body and wheels on the one side make it easy to transport from place to place. 
High Performance Equine Athletes Use Whole Body Vibration
Vibration therapy is an excellent alternative to a traditional warm-up prior to competition. Substituting a standard workout with the EquiVibe allows the horse's muscles to be prepared for significant movement without the possibility for strain and injury in the process. If your horse is injured and cannot exercise, it is likely that he or she will suffer from a decrease in bone density; this issue is completely preventable by using the EquiVibe. It provides significant stimulus to the bones, which can counteract the loss of bone density due to long periods of stagnation.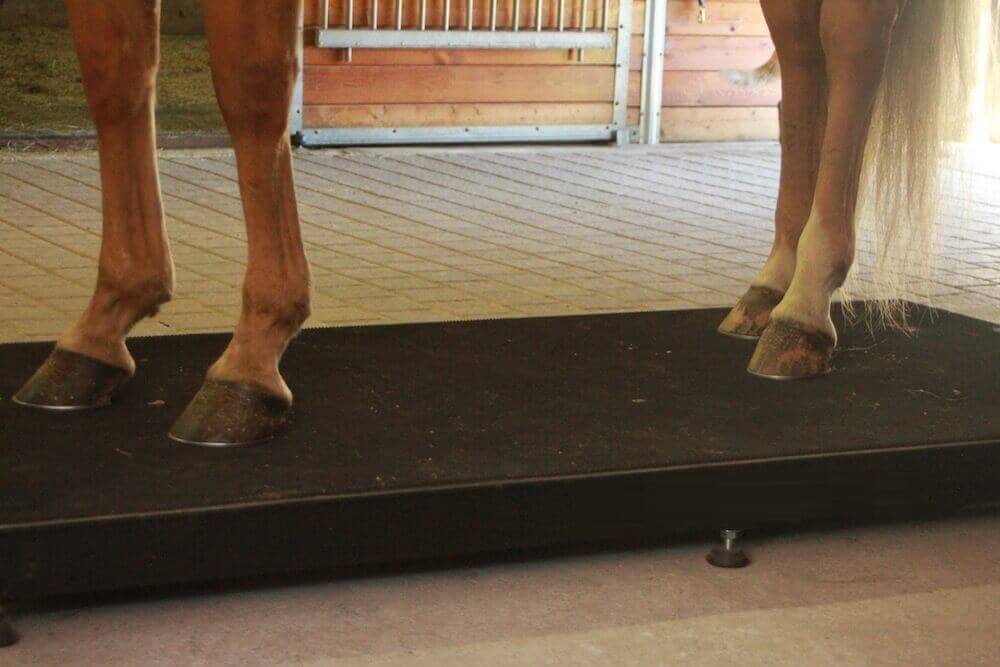 | Model | Part # | Dimensions | Capacity | Frequency | Weight |
| --- | --- | --- | --- | --- | --- |
| Aluminum EquiVibe 3072 | 19-3002 | 30" x 72" | 2400 lbs | 10-60 Hz | 112 lbs |
| Aluminum EquiVibe 3540 (set of 2) | 19-3001 | 35" x 40" | 2400 lbs each | 10-60 Hz | 75 lbs each |
| Aluminum EquiVibe 4080 | 19-3000 | 40" x 80" | 3600 lbs | 10-60 Hz | 150 lbs |