For over 25 years we have been designing and producing the highest quality Canadian-made horse stalls at our facility in Rockwood, Ontario. Whether you own a 2-stall private barn or a 60-stall boarding facility you can be assured we have a stall system to meet your needs.
Our stalls are constructed with a high level of attention to detail and excellence in craftsmanship along with the safety of horse and owner in mind. System Horse Stalls offer a wide variety of standard to custom designs engineered with round track and hidden welds to offer a high quality finish and smooth operation. Choose from hot-dipped galvanized or powder-coated finishes to ensure a stall system that not only looks good, but will withstand the harshest environments.
Whichever stall system you choose, you can be sure that we will be with you every step of the way, from design to installation.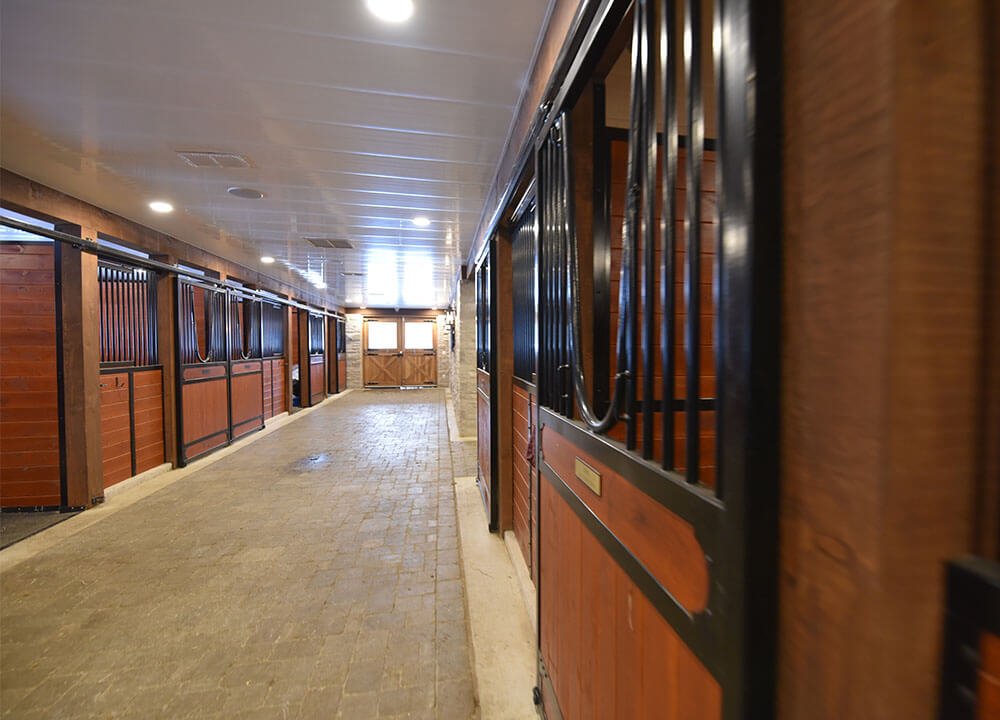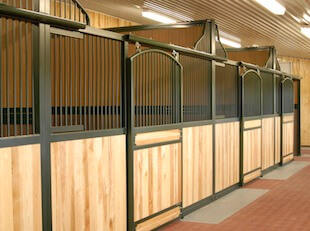 Our Custom Stalls are one of the most exciting and beautiful options that we have to offer. We can bring the warmth of wood along with the strength of steel, or combine with the beauty of stone to give you the ultimate in stall designs.
Our craftsmen and designers can take your plans from design to completion. If you can dream it, we can build it.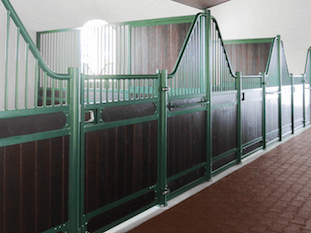 Our Wellington Stalls are inspired by classic European design. This open concept stall design offers excellent ventilation, horse socialization, and is manufactured to meet each individual customer's needs.
Choose from many custom options to create a stall design that's all your own and is built to last a lifetime.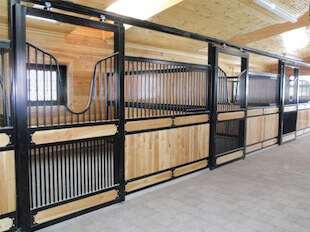 The Embleton Horse Stall design evolved thanks to the criteria of one of our valued customers.
Ideal for barns with high ceilings, the Embleton is distinctive for its open design and swooping Vs and is perfect for higher end sales barns or show stables. As with all our designer stalls there is a wide variety of colours and finishes to complete the custom look.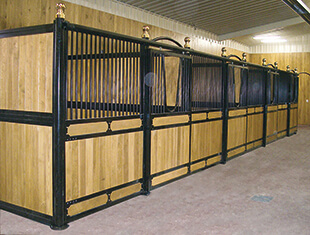 The Nobleman line of horse stalls brings the hobby or professional farm to a whole new level. These stalls are designed to withstand the abuse that horses can create while integrating design elements of the Custom and Tuscany stalls. 
Choose from many different decorative flanges and finials to create that unique design you're looking for.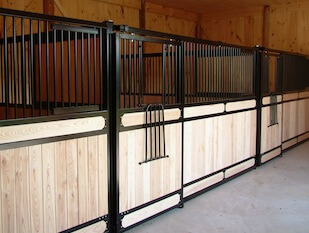 Our Westana line of horse stalls provides you with all the handy installation advantages of panel stalls, plus a distinctive look that is sought after by many equine owners.
With its added decorative flanges along with hot-dipped galvanized and powder-coated finishes, this line of stalls offers many distinctive features at a price that will appeal to any budget.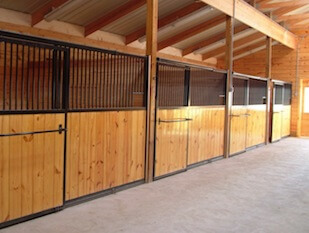 The Freedom line is named for the flexibility in design that this panel horse stall offers. The Freedom is now one of our most popular horse stall systems. Install this system in buildings without posts, or in between existing posts.
Assembly is simple and easy with Freedom Horse Stalls. Panels simply attach to posts, or by way of our heavy-duty connectors, making these some of the most versatile stalls on the market.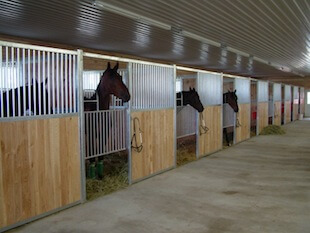 The Finish-Line Horse Stall is our most economical panel stall, with the advantages of easy installation that our panel stall system features. Finish-Line has proven to be the ideal solution for Standardbred or Thoroughbred training centres worldwide. Our customer satisfaction rates on these well-constructed horse stalls is second to none.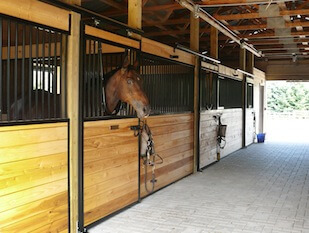 Noted for its strength and durability, the Rockwood is always a wise choice for renovating your barn or for a new building with support posts. Hidden welds on these stalls guarantee extra durability without compromising appearance or horse safety. Each bar is secured into pre-punched holes in the U-channel and then welded firmly into place, so there's no possibility of contact with metal bars.
You'll find the Rockwood Stall simple to install, and that it opens the door to countless customization options.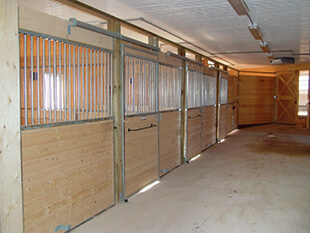 The Standard Stall line is a great place to start when considering a stall system. These stalls are manufactured with corrosion-resistant galvanized materials and are built to last.
These sturdy equine stalls are easy to assemble, but do require existing support posts. They include all the hardware components for an attractive horse stall front or partition. Choose from 10 ft or 12 ft fronts. Our Standard Stall kit also provides you with lots of options, from V-doors to feed doors.