The Odyssey Performance Trainer
Stabling horses is convenient, especially when you have space limitations, but regular exercise is essential for their physical well-being. A controlled exercise routine is also paramount when rehabilitating injured animals. If you have an available paddock, you can turn them out, but there is little assurance that they will get the exercise they need. Also, lunging horses or having riders exercise your horses is time consuming and costly, especially if you have a large number of animals. What trainers needed was a way to simultaneously exercise several horses at a time at a controlled pace.
The first mechanical horse exerciser was called a "hot walker." Several horses could be tied to this merry-go-round style device and forced to walk around in a circle (Photo 1). Many trainers had concerns about using hot walkers; horses were tied to the machine and trainers were worried that the unnatural head position would lead to musculoskeletal disorders. Also, the direction and speed of the machine could not be controlled well, if at all. Trainers needed a more versatile piece of a equipment, and a new approach was needed to refine the concept of an automated training machine.
The Odyssey Performance Trainer is the next step in conditioning and training without constraints and replaces the old style walking machines, treadmills, hand-walking, or ponying. The Odyssey uses state-of-the-art technology to help exercise and rehabilitate all breeds of horses. These machines have become the industry standard for training professionals worldwide and many owners agree that they can pay for themselves in just a couple of years.
The Odyssey Performance Trainer allows horses to move freely between a set of gates that travel inside a circular fenced track (Photo 2). This allows them to move naturally as they would in a paddock or on a lunge line, but at a specified pace chosen by the trainer and can even be programmed into the Odyssey's computer module. For maximum versatility, the speed and direction of the gates may also be operated manually, giving the trainer full control.
Whether it is keeping your racing or performance horses in shape, rehabilitating injured animals, or exercising stallions and broodmares, the Odyssey is the most versatile exercising machine currently on the market.
MOTOR
2 HP/230v helical parallel gear motor with HD Bearing
Sealed unit to withstand harsh environment
Complies with NEMA standard MG1
Whisper quiet
Pre-stretched harden chain drive for better torque
Gear box contains high grade synthetic oil for superior operation
GALVANIZED STEEL STRUCTURE
Entire framework constructed from steel-gauge is directly related to each component's function.
All components are welded for strength.
Hot dipped galvanized for added durability and rust resistance.
STATE OF THE ART CONTROL PANEL
All panels are inspected, approved, and weather-resistant
Sealed to protect from dust and moisture
Includes 30amp main power disconnect switch, emergency stop, ventilation, and 230/12v transformer
SAFE DIVIDER GATES
Extra wide 7'6" rounded corner heavy duty welded wire gate with rubber guard strips at the bottom for added safety
Rigid sides prevent twisting during operation
Attached to adjustable main arm with resilient polymer hinges that swing more freely
A variety of inside and outside fence panel systems are available to meet your safety, aesthetic, and budget requirements. Beautiful solid wood panels, tubular steel, mesh steel, or puck board in a choice of colours all designed to deliver superior strength and safety. Depending on your situation you may also choose the option of electrifying the outer perimeter of your fence.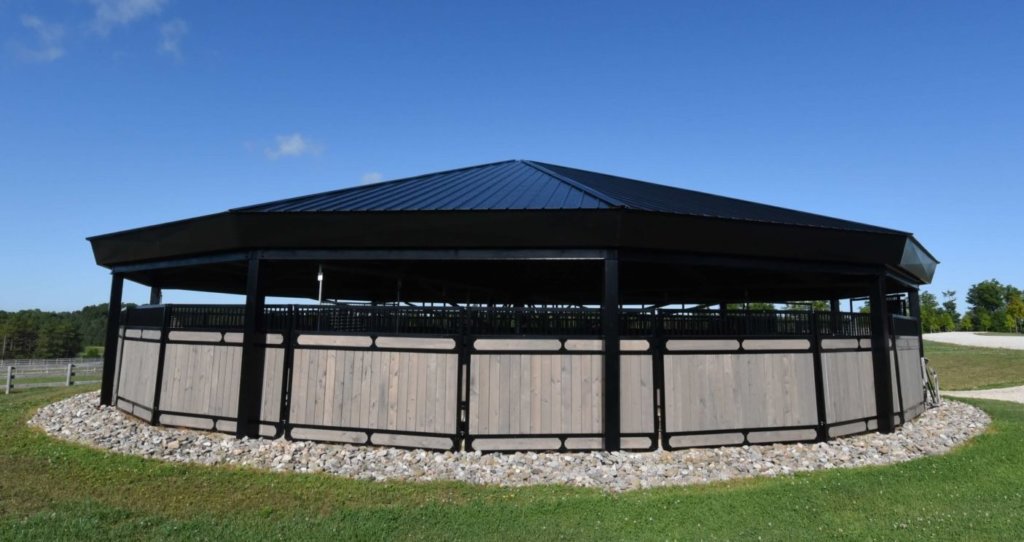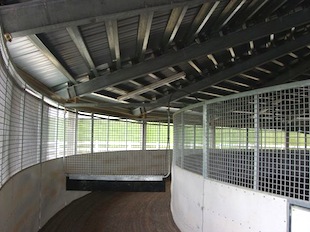 For the ultimate in performance and safety. Using 2"x 2" square tubing and welded wire mesh on top, this is the heaviest system we manufacture. The bottom utilizes puck board material to take the hardest of hits and does not shatter when kicked. To add to the safety features of this fence, we roll the panels to the radius of the exerciser, minimizing the gap between the hanging gates and the fence system virtually eliminating any chance of a horse escaping from their individual cell and entering the cell in front of them. Available in 6', 7', and 8' heights. Panels are 12' wide with 4' of puckboard material on bottom and 2', 3', or 4' of welded wire mesh above.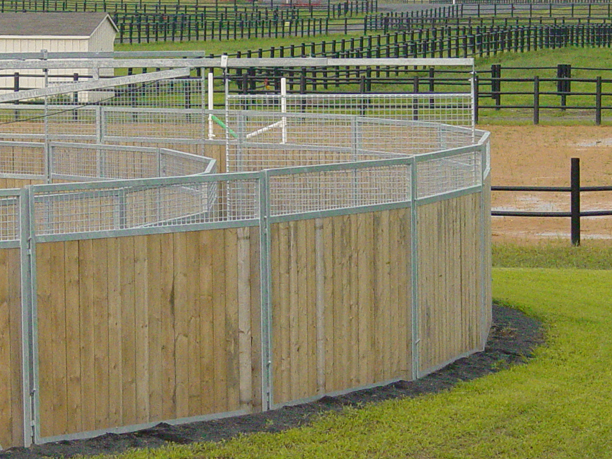 Performance with the added safety of mesh, the Thorncreek uses the same fence panel design as the Darlington, a 2" x 2" square tube channel frame and inner u-channel to carry your choice of lumber. Boards are easily replaced because of the channel design and options of 6' high (5' wood/1' mesh), or 6' high with an extra mesh panel for better ventilation and visibility (4' wood/2' mesh) are available.
Odyssey Recommendation: Consider using our Tongue & Groove Ash for superior strength and long-lasting beauty; hardwood lumber kiln, and air-dried to 14-16% moisture content for stability.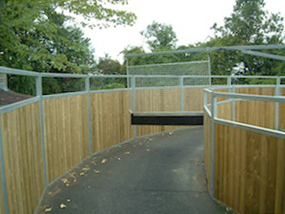 Designed to offer a less expensive alternative to the Thorncreek while still providing the strength and high-end aesthetic of wood. Built using 2″ x 2″ square tubing as a u-channel frame, the wood installs quickly and easily and the channel system allows for quick and easy replacement of boards. The panels sit on top of the ground and can be taken with you if you decide to move the machine. All steel is hot-dipped galvanized after fabrication and built to last.
Odyssey Recommendation: Consider using our Tongue & Groove Ash for superior strength and long-lasting beauty; hardwood lumber kiln, and air-dried to 14-16% moisture content for stability.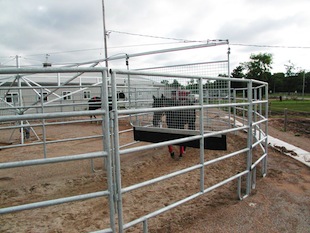 A cost effective round pen style system that can be set up or taken down with minimal labor and time and is an ideal solution where ventilation is critical and outdoor winter weather is of minimal concern. A 16 gauge 1 5/8" round tube panel with center support bar for added strength and 90-degree joints for added safety, these panels connect using a quick and easy "drop pin" connection. Safety is always a top priority, so these panels are 6' high to ensure tall or excitable horses are contained. Available in galvanized or powder coated finish. Now offering rolled panels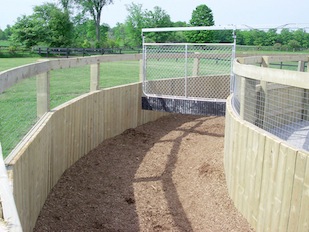 The XP Fence System was originally designed as a kit system for the do-it-yourself weekend warrior. Although it can be purchased preassembled, it is easy to build using your own wood. The channels allow you to build the fence in the configuration you require while at the same time giving the flexibility of being a removable system. Channels accept 1.5" lumber of your choice (hardwood is recommended). A strong, safe, flexible fencing solution at minimal cost!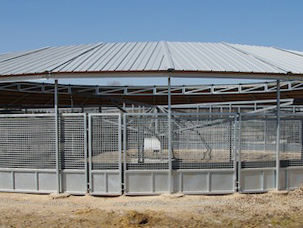 Built to last, and offering total ventilation and full visibility, the Wellington fence panel system uses 2" x 2" square tube frame with 2" x 2" x 3/16" welded wire mesh, hot-dipped galvanized for a lifetime of use and designed to take a lot of abuse. Available 6' high.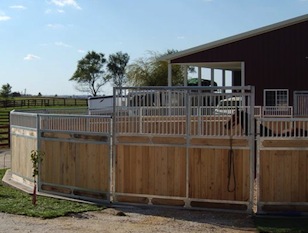 The Lexington fence system delivers high performance with a different look than the traditional fences used around horse exercisers. Using the same 2" x 2" square tube frame as the Darlington and Thorncreek fence, but with added decorative flanges and grill work to give it the look of a stall front. Available 6' high with  1' of grill work above.
The World Leader in
Pre-Engineered Roof Structures
Odyssey is the leader in pre-engineered half and full roof structures. All structures are rated for 40 lbs snow load for installation in most areas of Canada or the US. Our Half Roof is an innovative single truss design providing maximum clearance on the inside of the building for overall safety. The standard 13' truss of the Half Roof provides 12' of coverage where the horses train, and a 1' overhang on the outside of the roof prevents the elements from getting to the horse. Our Full Octagon Roof is a full steel building; a unique spider ring at the top that can be covered by a cupola joins the trusses.
VARIETY OF STANDARD AND PREMIUM PAINT COLOUR CHIPS to choose your roof colour from—included in price or contact for pricing.
POWDER COATING for roof structure posts available—call for pricing.
CUSTOM ROOF SIZES AND CUSTOM OVERHANG SIZES at your request.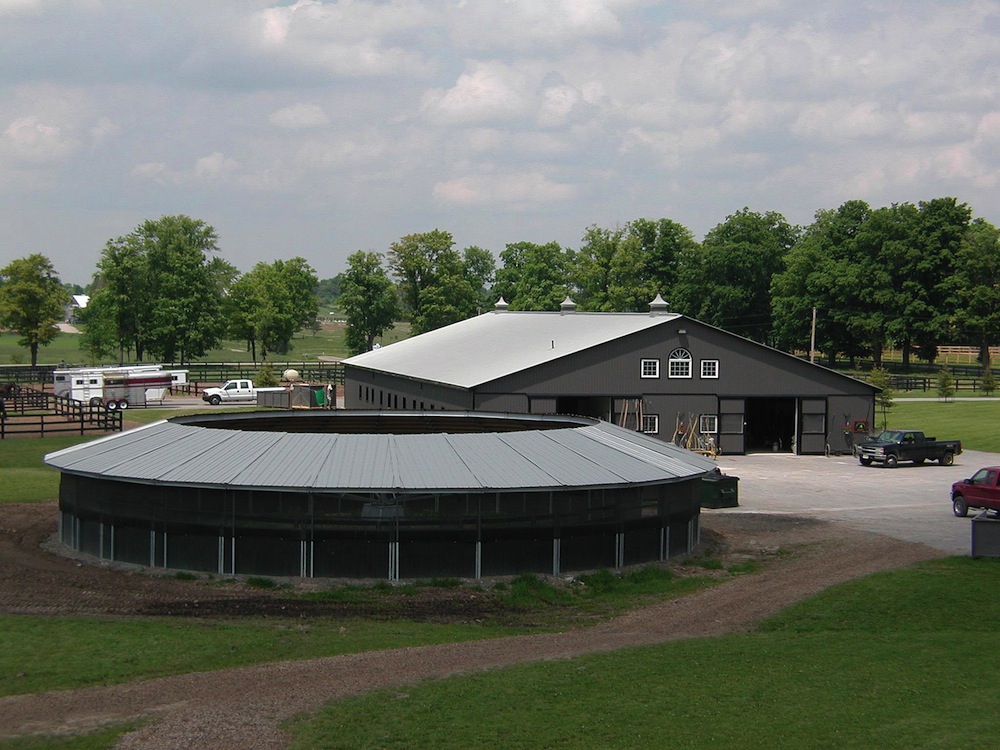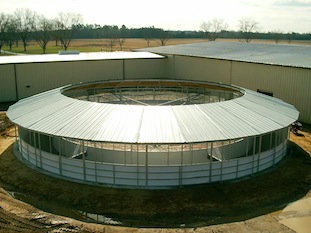 Enclose your trainer for all-weather use
Provide protection from the elements
Preserve footing material
A less expensive alternative to our Full Roof that will keep your exerciser operational in every season
The innovative single truss design also provides maximum clearance on the inside of the building for overall safety
Steel posts and trusses with wooden purlins
Choose from a variety of steel roofings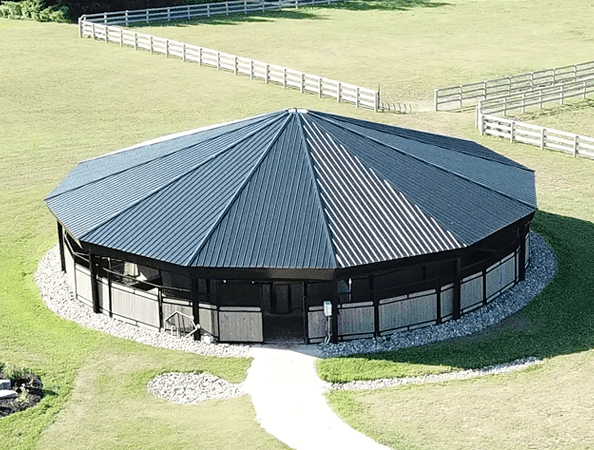 Designed for North American elements
Standard 50', 60', and 70′ buildings—custom sizes available
Unique spider ring in peak joining trusses
Main trusses fabricated with I-Beam—gives the space a larger feeling
Tall 28' building becomes the focal point of your farm
Hot-Dipped Trusses and Purlins—prevents rusting and provides a longer lasting frame
Many steel roofing choices to choose from
Posts can be hot-dipped galvanized or powder-coated
Custom cupolas available
Taking Comfort and Safety to New Levels With Our Footing Systems
Good flooring allows your horse's hard-working legs and joints some relief and keeps him from slipping on wet surfaces. It's easy to clean, saves you money on bedding and reduces the smell. Knowing what type of flooring to use for your horses can be overwhelming. You want your horses to be as comfortable and safe as possible, but you also want to remain within budget. That's where our industry experts can really come in handy. Let us worry about the logistics and hard work, so you can get back to doing what you love – which is spending time in the barn and with your horses.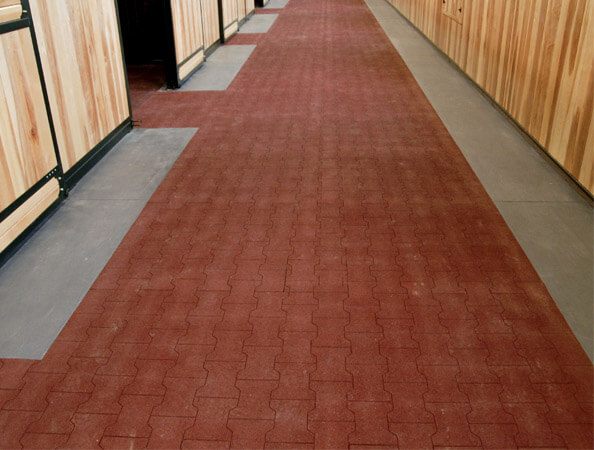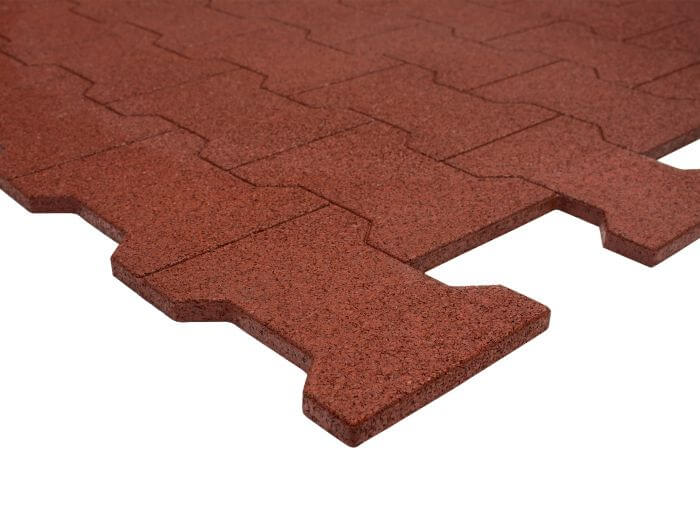 Premium Quality Rubber Tiles
Premium quality rubber paving tiles are a beautiful and safe flooring alternative anywhere that requires a clean, cushioned, non-slip surface.
Colours: Terra Cotta or Black
Thickness: 15 mm or 30 mm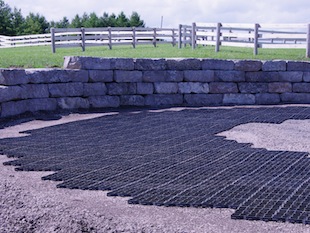 Ody-Grid: Premium Soil Stabilization System
End mud & rutting problems by increasing soil stability & improving drainage
Extremely durable—crack-proof & rot-proof
Decrease bedding useage
Fill with wide range of materials (e.g. sand, gravel, soil, grass)
Use in exercise areas, arenas, stalls, paddocks, etc.
Minimal maintenance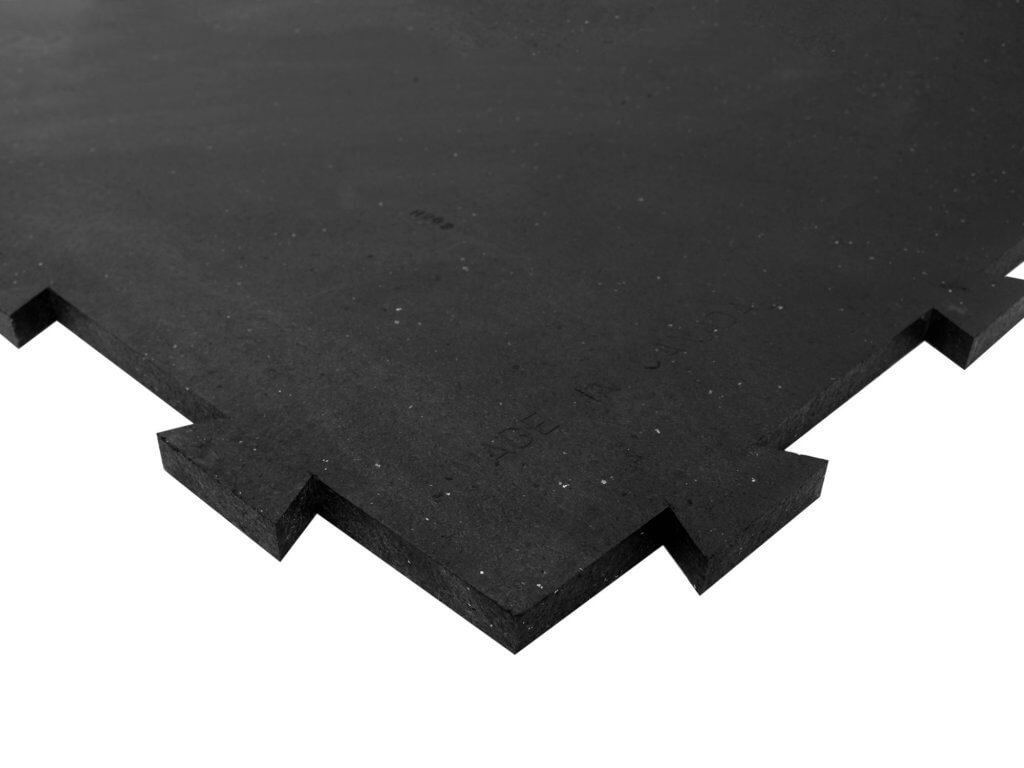 Cut to fit any walker
Precision-cut, pie-shaped pieces
Up to 100 degree angle can be easily cut out of 4′ x 8′ x 3/4″ mats
Large, interlocking tab design
100% vulcanized rubber