The World Leader in
Pre-Engineered Roof Structures
Odyssey is the leader in pre-engineered half and full roof structures. All structures are rated for 40 lbs snow load for installation in most areas of Canada or the US. Our Half Roof is an innovative single truss design providing maximum clearance on the inside of the building for overall safety. The standard 13' truss of the Half Roof provides 12' of coverage where the horses train, and a 1' overhang on the outside of the roof prevents the elements from getting to the horse. Our Full Octagon Roof is a full steel building; a unique spider ring at the top that can be covered by a cupola joins the trusses.
VARIETY OF STANDARD AND PREMIUM PAINT COLOUR CHIPS to choose your roof colour from—included in price or contact for pricing.
POWDER COATING for roof structure posts available—call for pricing.
CUSTOM ROOF SIZES AND CUSTOM OVERHANG SIZES at your request.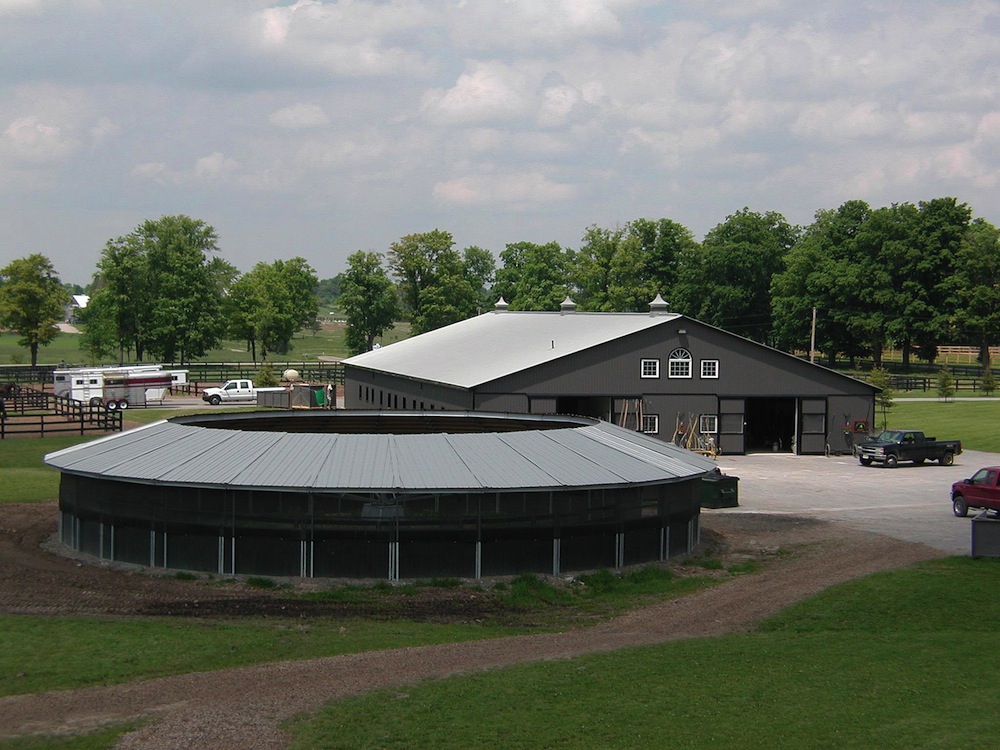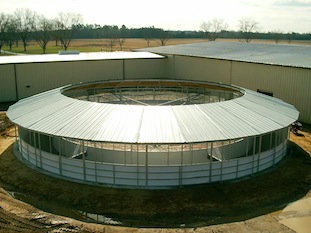 Enclose your trainer for all-weather use
Provide protection from the elements
Preserve footing material
A less expensive alternative to our Full Roof that will keep your exerciser operational in every season
The innovative single truss design also provides maximum clearance on the inside of the building for overall safety
Steel posts and trusses with wooden purlins
Choose from a variety of steel roofings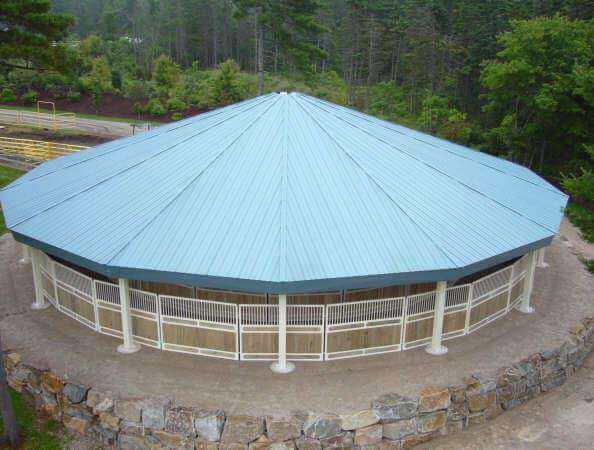 Designed for North American elements
Standard 50', 60', and 70′ buildings—custom sizes available
Unique spider ring in peak joining trusses
Main trusses fabricated with I-Beam—gives the space a larger feeling
Tall 28' building becomes the focal point of your farm
Hot-Dipped Trusses and Purlins—prevents rusting and provides a longer lasting frame
Many steel roofing choices to choose from
Posts can be hot-dipped galvanized or powder-coated
Custom cupolas available
If you have any questions please contact us via our contact form, phone, or email.